DogWatch by C No Pet Fence
It's all about your dog!
Bruce and Sue Thompson are the founders and operators of C No Pet-Fence. They install and service the Chicago Land and Southern Wisconsin areas.
- Established in 1991
- 25 ½ years in business
- Representing over 25,000 dogs
- Fully insured
- Over 15,000 customers
- This is our only business, "Dogs are our life!"
- Winner of the DogWatch® "Top Dog" award each year since 1992
- Family owned and operated
- We provide outstanding customer service
- Expert training

C No Pet-Fence has been in business for 25 ½ years. We currently serve over 15,000 customers in the greater Chicago area and Southern Wisconsin. The ratio is 1.67 dogs per household, so we estimate that these customers represent over 2,500 dogs we have successfully trained to the system.

We currently have ten full-time employees, we do not hire "contract" labor - all of our staff is fully trained. Combined, our staff represents over 100 years in the industry.

We have a basic philosophy (in our company) your dog will always be trained by an owner of our company. Our capable staff will install your fence, but afterwards – an owner will inspect the installation and work with you to train your dog. Anything less than perfection is unacceptable.

When you have made you decision to purchase the DogWatch® Hidden Fence from C No Pet-Fence, you will have purchased the top-of-the-line in dog fences. Your price includes installation (as discussed for your desired configuration), lifetime warranties, dog chew warranty, two years batteries and professional training as needed.

Our Mission Statement – To be the premier supplier of electronic fences and customer service in the market we serve.

Included in the process
- We call J.U.L.I.E. (Joint Utility Locating company) to get all utilities located. Anything you have added (that you do not pay a utility bill for) needs to be mentioned to our staff.
- An installation date and time is established.
- The technician arrives and walks the yard with you. Even though you may have previously gone over this with your salesperson, the technician will be the one placing the wire and we want you to tell him where you want your dog and where your property lines are located. (Note: No land survey is needed for electronic dog fence, it will be your responsibility to advice where the property lines are located.)
- The transmitter will normally be placed in the garage along an outside wall. We need only a 110 outlet for electricity.
- The surge protection device will be mounted outside the garage within 15 ft. of the transmitter. The antenna wire will begin and end at this surge box...
- The installer will place the wire in accordance with your desired configuration. We use a "direct-burial" quality wire. The manufacturer of our wire warranties this wire for 50-years (if properly maintained). All wire connections are soldered and sealed to prevent corrosion.
- Training flags will be placed (as needed for the breed) throughout the property.
- The trainer arrives, inspects the fence and wire location. Introduces you and your dog to the fence, explaining all controls, features, programming choices and battery testing.
- The training program will be outlined and explained by your trainer.
- Follow-up training is available anytime requested at no additional charge. We do not sell training – we provide it. Please feel free to call!

After the installation / training is over
- Remember you have buried wire before landscaping your yard.
- Remember to check you battery (as directed in training).
- If you move – remember to take your DogWatch Hidden Fence with you! Thanks to the DogWatch Dealer Network, your lifetime warranties will continue in your new home.

Customer Support
We take very seriously our commitment to customer service. Over the last ten years we are proud of the reputation we have earned in the Chicago Land and southern Wisconsin areas we serve.

When a customers' fence requires immediate service (fence is down), this customer receives the highest priority. We have crews available to you six days a week. This commitment to servicing you has allowed us to achieve a 95% success rate of repairing down fences within 48 hours. We want your dog to have the freedom the fence provides as soon as possible.

If you need references as to our response times, please feel free to contact us.

Training
Training of your dog(s) is included with the purchase of an installed fence. Our crews will come and install your fence according to your specifications. After the installation, a professional trainer will arrive and introduce your pet to the fence. They will explain the system in detail, answer any questions you have, and leave you with a day by day training instruction set. If you require additional training sessions, it will be provided at no additional charge within the first two weeks your pet is on the system.

The key to the success of your system will be the training you receive and the commitment you make within the first week of training. We pride ourselves in providing the "best training" available.


Service Area
We provide services to customers in the Seven County Chicago Counties & Three SE Wisconsin Counties area, including the towns and cities of Arlington Heights, Aurora, Barrington, Chicago, Elburn, Evanston, Gurnee, Hawthorn Woods, Homer Glen, Kenilworth, Lake Forest, Long Grove, Naperville, Oswego, Schaumburg, South Barrington and Wadsworth and Wayne., Illinois and the surrounding area.
Get a Free In-Yard Estimate!
Our representatives will meet you at your home for a free in-yard estimate. We will help assess your needs and customize a solution that suits both you and your pet. Call today or schedule an appointment to get things started!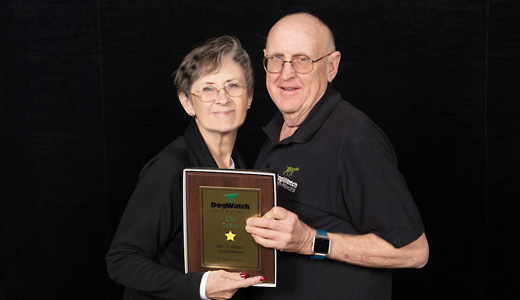 Why Choose DogWatch by C No Pet Fence?
1. Our number one concern is the safety and well-being of your pet. We provide the support you need to ensure successful training and happy containment.
2. We provide a proven PetFriendly™ training program. We train your dog (or cat) to recognize the boundary flags and the audible warning signal (or vibration) before introducing the correction.
3. We are experienced professionals committed to providing excellent customer service and support. We strive to service every customer promptly and courteously.
We want to hear about your experience! Write us a review on Google+
Simply the best. No getting around it.™
Another reason to choose DogWatch by C No Pet Fence is that we are an authorized DogWatch dealership. The DogWatch Hidden Fence is the most technologically advanced and the easiest to use, and it is backed up by a no-hassle Lifetime Warranty from a company with more than 25 years of keeping pets happy and safe.

What makes us Simply The Best?
---
Customer Testimonial
Your service is second to none and the value and protection for my dog and family is first class. I can never say enough good things about our fence – Thank You!
Diane C., Chicago, IL